Description
The like-new SEIKO MARINE PRO SBBN031 is a fantastic watch, and it's a solid evolution of the line. I really like the dial, appreciating just how legible, simple, and effective it is —the way a tool watch should be. On the wrist, it's comfortable and it's as solid as a rock, too. It's the perfect summer or winter watch on the right strap. At $1,350 at full retail, it's by no means a cheap quartz watch, but Seiko didn't design it to be one. From the impressive caliber to the solid external build, this is a watch made to be put through its paces.
The Marine Master Professional Tuna SBBN031 is built as a serious dive watch for ultimate performance. It has great water resistance, is tough, and is built to handle virtually any harsh conditions in regards to water that you may subject it to.
The SEIKO MARINE PRO SBBN031 has a classic design that makes it instantly recognizable as a dive watch, but at the same time, it is built on the Seiko Tuna design which is unique from most other dive watches out there. The Tuna SBBN031 is the perfect watch for someone who appreciates quality and wants a well-built, well-finished timepiece with great performance that stands out from the ordinary and offers exceptional value for money.
Without further ado, let's dig in and have a look at what makes the Seiko Marine Master Professional Tuna SBBN031 so popular.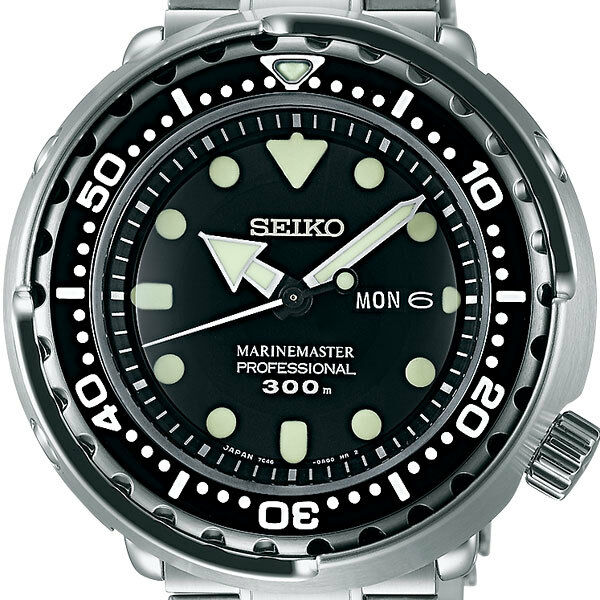 SBBN031 Case
First and foremost, this watch is presented with a so-called "tuna" case. This name derives from the fact that its design is reminscent of a tuna can. This case design splits opinions, and whilst some people dislike this look, the Seiko Tuna watches have a great following of fans.
This watch is built as a tool watch meant to be robust, sturdy, and durable. And yes, it is exactly what its looks suggest it to be. The watch is presented with a diameter of 48mm, and because of its round case shape which essentially doesn't have any lugs, the length of this watch is the same. The watch is 14.7mm thick and weighs about 189 grams. With that said, it is a relatively bulky watch, not surprising considering its purpose, but one key thing we must say, that everyone who tries it on also comments on, is that it certainly doesn't wear like a 48mm watch.
This has to do with the fact that one of the main things that make a watch feel large on the wrist is its lugs, and even so when its lugs protrude from the sides of the wrist. But because this one doesn't really have any, it wears much smaller than you may think. With that said, it still feels solid and bulky on the wrist, but it isn't perceived as huge unless you have very small wrists. This is a really nice benefit that allows more people to wear and enjoy this watch.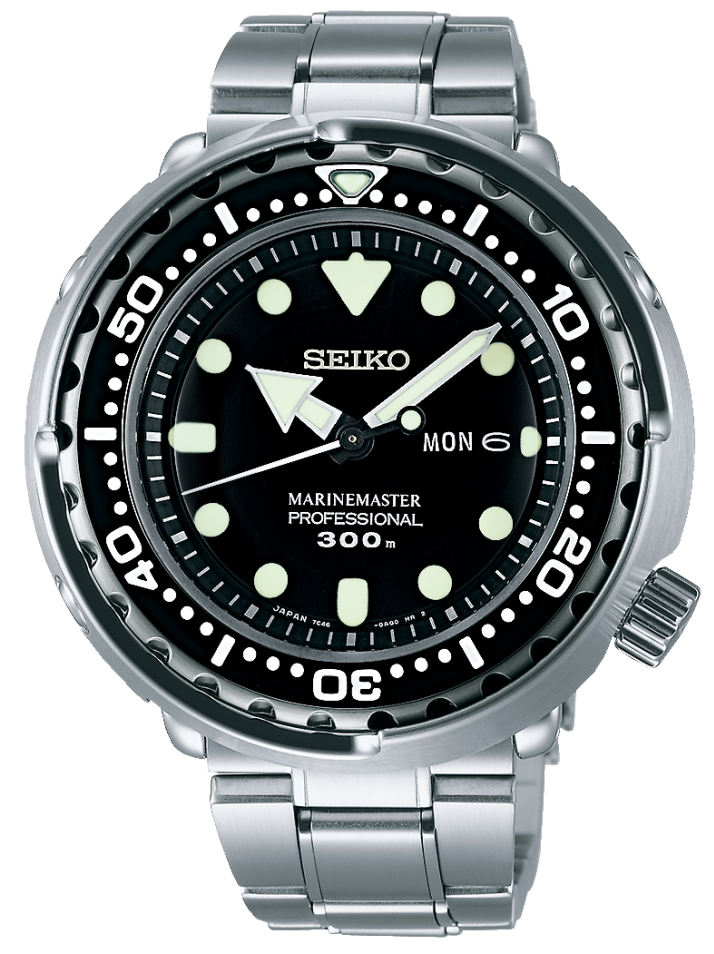 The case has a so-called "Diashield protection" which is essentially a coating on top of the stainless steel to make it more durable and scratch-resistant. Thanks to this coating, the watch isn't scratched as easily which is a nice bonus, especially for those who are really careful with their watches.
Another distinctive feature about the SBBN031 Tuna is that its case construction has shrouds surrounding the case. The shrouds serve a great benefit, which is to keep the watch and bezel protected, but it also gives it a unique and sportier look. Because the shrouds take up a large part of the case dimensions, the dial is relatively small, and this, in turn, contributes to making the watch appear smaller on the wrist. Large dials are yet another factor that makes a watch perceive much larger on the wrist, and Seiko has really paid attention to this.
Because the shrouds surround the bezel, with only a few small openings, it keeps the bezel protected and minimizes the risk of accidental knocks which can move the countdown timer you have set. The bezel has teeth edges, and thanks to the openings, it is relatively easy to grip and operate the bezel, although it would be easier without the shrouds.
But again, it does serve a purpose and is also a distinct part of the Tuna design. The shroud has a brushed finish to make the watch appear more tool-like and sporty, and blend into the design better. The bezel feels quite nice to rotate and doesn't feel hollow and cheap like the most affordable dive watches tend to.
On top of the bezel, it has a black insert with Arabic numerals and a luminous triangle at 12 o'clock for improved legibility in low-lit conditions.
Around the shroud, it uses polished hex screws to keep it in place. The screw-down crown is positioned at 4 o'clock which is a good position as it prevents the crown from digging into the wrist, thus improving comfort. Because it is a screw-down, and because the shroud sits on top of the case, it also helps keep the crown protected, although it does not technically have crown guards.
On top of the case, it has a doubled-domed Hardlex crystal. The hardlex crystal is nothing new for Seiko, but the double-domed design gives the dial a nice effect, magnifies the dial, and ultimately improves legibility.
To go with the sporty tool-watch feel, the whole case, of which essentially only the shroud is visible, is satin finished.
Since this is a dive watch, it of course has great water resistance. This watch offers a water resistance of 300m/1000 feet which is really great. This means you can go scuba diving and swim with it without having to worry.
SEIKO MARINE PRO SBBN031 dial
When it comes to the dial, the SBBN031 offers exactly what you would expect from a serious dive watch, both in terms of features, but also in terms of design.
It is presented with a black dial which, again, is relatively small in order to balance out the size of this watch. Around the outer edge of the dial, it has an angled chapter ring on which the seconds markers are printed. The dial itself has painted luminous material and not applied markers, and if you ask me, this is a really nice choice by Seiko. Whilst applied markers would look nice too, the painted markers give it a look that reminds of vintage dive watches. The markers have Lumibrite applied to it, and the lime on this watch is really great. It glows brightly and long which helps with legibility in low-lit conditions. The lume glows in bright green.
The frames of the hands of this watch are painted white which provides exceptional contrast against the black background. These too have Lumibrite applied to them. They are also matte in order to minimize reflections. The hour hand has a broad arrow for its tip and the minutes hand is sword-shaped. The seconds hand has a luminous dot on its opposite end.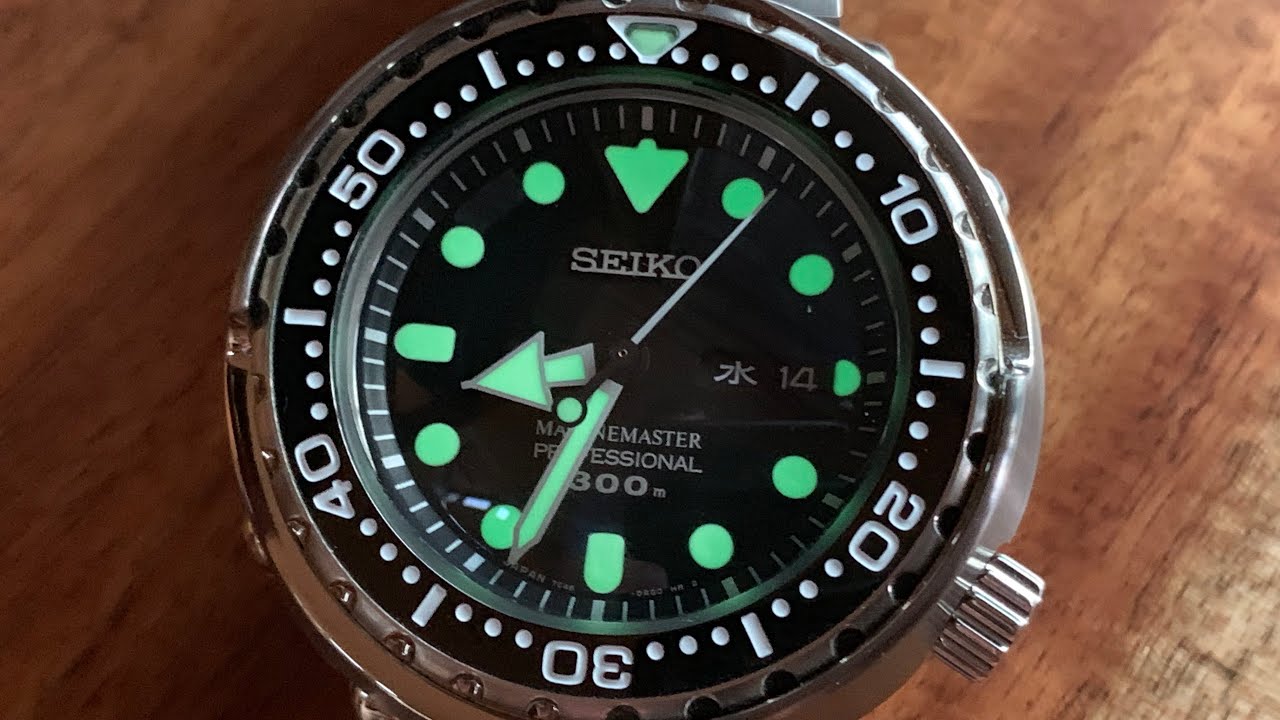 With all of this said, the legibility, both in darkness and in bright environments, is really great and definitely not something we can complain about.
Looking at the details of the dial, as those discussed above, it's evident that Seiko has really thought about everything and designed this watch for performance.
As a practical detail for your convenience, it also has a day and date window positioned at 3 o'clock which is great for everyday wear. It is also integrated nicely into the dial, so it's not something that harms the appearance.
Movement
Inside the Seiko Marine Master Professional Tuna SBBN031 is the Seiko caliber 7C46. This is a high-torque quartz movement with 7 jewels which Seiko developed specifically for this watch. The most devoted watch nerds may dislike the idea of a quartz watch and not a mechanical watch, but this is a great movement that does serve a purpose and has several benefits.
First off, the watch has a battery life of approximately 5 years. It is sturdy and built to last and handle shocks and bangs. The movement has an end-of-life indicator so you can know when it is time to replace it. In addition, quartz movements are far more accurate than mechanical watches, and when it comes to dive watches, accuracy is everything. So whilst some people may prefer a mechanical movement, the choice of going quartz by Seiko is not a bad one for the SBBN031.
Bracelet
On many of our previous Seiko watch reviews, a common theme is that the bracelet has room for improvement since they tend to be slightly rattly and not feel very robust.
The bracelet of the SEIKO MARINE MASTER PROFESSIONAL SBBN031 does not have that issue, however. And this is a relief considering the price of this watch.
The bracelet starts at 22mm at the case and tapers to 20mm for improved comfort. As a dive watch should, it has a diver's extension so you can wear it on top of a wetsuit.
In addition, the bracelet is actually really comfortable to wear, and its design goes very well together with the case. Whilst the bracelet is mostly brushed for a sporty look, it has thin polished lines across the middle links. The bracelet also helps make the weight of the case to sit sturdily on the wrist, which is crucial or this type of timepiece.
If you're not a fan of the steel bracelet, however, many owners have switched to NATO or rubber straps which also look great.
SEIKO MARINE PRO SBBN031 Specifications
Movement: Seiko 7C46, high-torque quartz movement
Case: Stainless steel with Diashield protection
Water-resistance: 300m/1000 feet
Diameter: 48mm
Length: 48mm
Lug width: 22mm
Thickness: 14.7mm
Crown: screw-down
Crystal: Double-domed hardlex
Dial: black
Bracelet: stainless steel with diver's extension
Weight: 189 grams
Conclusion
With all of this said, I think it's safe to say that it is easy to understand why the Seiko Marine Master Professional Tuna SBBN031 is so immensely popular. This watch is well-built and gives a great impression of quality. It has some heft to it and feels very well-built, and looking at it up close, it becomes very evident that Seiko has paid attention to every single aspect of it, both in terms of quality, but also in terms of performance.
The watch has a unique and distinct design that makes it stand out from most other dive watches on the market, but it does this by never compromising on its quality, and in fact, trumping the performance of many others out there.
This is simply a really nice watch in terms of design, and a watch that offers great value for money if you look at finishing, build quality, durability, and all other aspects that are important for a dive watch. Yes, it is more expensive than many of Seiko's other watches, but the increase in price certainly shows in every single aspect of it.
This is a complete set that has not been used before.  The bracelet had one link removed but the previous collector decided to trade this in for a Marathon JDD (a great watch itself!).  As such, this is a really good value for a superb professional SEIKO MARINE MASTER PROFESSIONAL SBBN031!